Changing Themes
Themes allow you to quickly and easily apply pre-designed sets of colors, fonts and layouts to your site. These attributes can be further customized without any prerequisite knowledge of CSS or web design by using the Theme Designer.
The Theme Designer
To access the Theme Designer, log in to the front-end of your site using an account with Administrative Privileges. Alternatively, you can log in to the Administration Console, then click "View Website":
When viewing the site as an Administrator, the Theme Designer is available on the top-left of the page:

Click on the "Theme Designer" link to modify the Theme: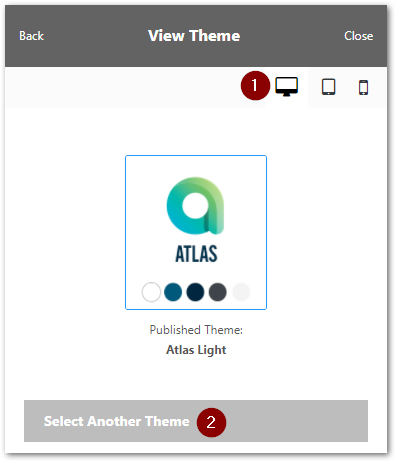 This screen allows you to simulate viewing on different sizes of device (#1) or select another Theme (#2). Once you have selected an appropriate theme for your site, click "Publish" to apply the changes, or "Close" if you choose to stay with the default.
Refer to the "Customizing a Theme" section of this guide for information on modifying the selected Theme.