Setting your Site Live
Moving to your Permanent URL
Once you have finished adding content to your site and reviewed the Going Live Checklist, you are ready to set your site live. Begin the process by clicking on "Settings", then "Set My Site Live":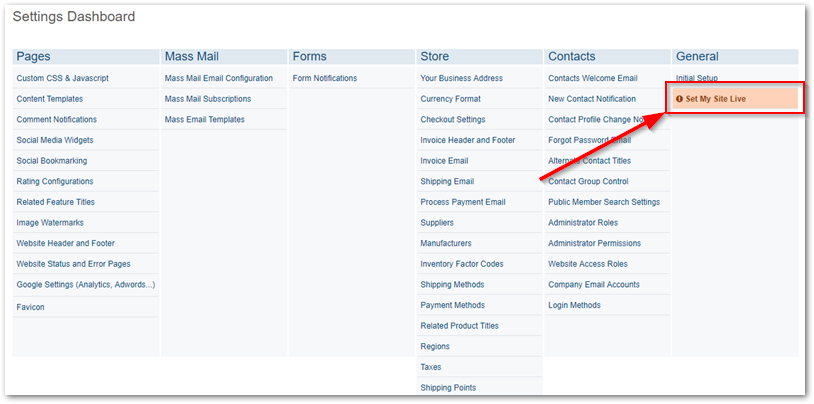 The next screen provides three options for configuring your domain: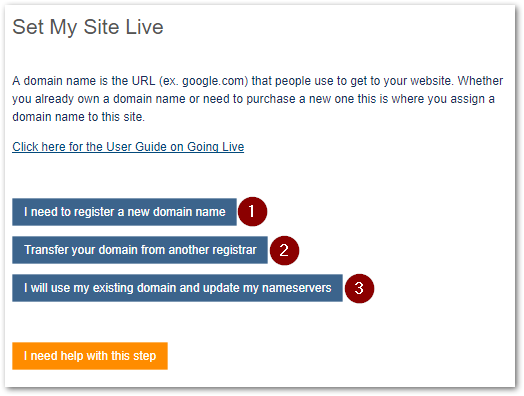 I need to register a new domain name: Select this option if you do not already have a domain for your site and wish to purchase it through Medisahaker's registrar. This is the simplest option as the registration, renewal and DNS configuration for your domain will be managed by Mediashaker.
Transfer your domain from another registrar: Select this option if you already own a domain, but wish to have the renewal and DNS configuration for your domain managed by Mediashaker.
I will use my existing domain and update my name servers: Select this option if you own a domain and wish to remain with your current registrar, but have Mediashaker manage the DNS settings.
After selecting an option, you will be directed to the checkout page to proceed with your order.
If you wish to retain complete control over your domain, including the name servers, contact the ShoutCMS Customer Care Team for assistance with setting your site live.
Creating Email Accounts
If you have purchased ShoutCMS with Integrated Email, email accounts for your staff are configured in the Contacts Settings area of the Administration Console, after activating your domain name. You may also want to configure business email accounts such as info@YourDomain.com. Email accounts can be accessed using webmail at https://webmail.yourdomain.com (no www) or you can configure email clients (e.g. Outlook and Android/iOS devices) to access email accounts; the relevant settings can be found on the webmail login page.