Before you Start
This section of the user guide will provide some basic information about ShoutCMS, your hosting agreement and tips to help you get started with your website.
A Glossary of terms is available to assist with understanding the various terms and components of a ShoutCMS website. We recommend you spend a few minutes reviewing the Glossary, and return to it periodically when an unfamiliar term is encountered.
The ShoutCMS Administration Console
A ShoutCMS website is managed from the ShoutCMS Administration Console, a web-based tool used to define site settings and manage page content, form submissions, registrations, email addresses and store sales.
To access the ShoutCMS Administration Console for your site:
Navigate to: http://yoursite.shoutcms.net/admin where "YourSite" is the domain name that you provided when your ShoutCMS account was created.
For the username, enter the email address you provided when you created your ShoutCMS account.
The password will have been provided in your welcome package. If you do not have the password, contact our support team for assistance.
Although your site's content will display properly in all modern browsers, the Administration Console is optimized for Firefox and Chrome with a screen resolution of 1920x1080. We suggest using one of those browsers when editing your site.
Modifying the Displayed Page
An easy way to modify your website's existing content is to login using an account with Site Administration privileges. When successfully logged in, ShoutCMS displays the Site Editor Menu at the top of each page as you navigate.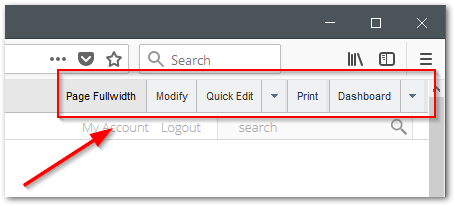 The "Quick Edit" button allows you to access the WYSIWYG Editor without loading the Administration Console.
Accessing your Hosting Account
Your Welcome Package identifies the "Primary Contact" and assigns a username and password to access the ShoutCMS Client area. The "Primary Contact" is the designated holder of your host account; these login credentials are also used as a master account to access the ShoutCMS site Administration Console.
Additional account administrators can be easily added or deleted in the ShoutCMS Client area. Site administrators can be managed from the Contacts section of the Administration Console.
The ShoutCMS Hosting Agreement
ShoutCMS is a cloud-hosted service that is accessible through the internet. To protect our customers, terms of service and processes to change services are defined in the ShoutCMS Hosting Agreement.
Getting Help
We recommend you review the this guide before contacting the ShoutCMS Customer Care team. The ShoutCMS User Guide contains reference articles on each of the major sections of ShoutCMS. Our Site Showcase can be reviewed to get ideas on ways a ShoutCMS site can be designed and integrated to support your online business.
Registered clients (and their authorized contacts) can contact the ShoutCMS Customer Care Team through online-chat, creating an online support ticket, or by telephone. Clients must identify themselves as the Primary Contact or an Alternate Contact when contacting the support team.
Registering a Domain Name
Generally sites are moved to a dedicated URL such as www.YourStore.com once they are ready to be viewed by public audiences. You must have control of an existing registered domain before your site can be made public. It is easiest to request a domain name through ShoutCMS as we can then automate the site activation process. You can start setting up your new site without a domain name, but you should register one sooner than later.
The following configurations cannot be completed until the site is transferred to its permanent URL (done through the site activation process):
Creation of email accounts requires the permanent URL; the site does not need to be activated.
Integration with various website search engines such as Google and Bing.
Installation of SSL certificates for secured transactions.
Refer to the section on Going Live for more information.
Use Strong Passwords
Controlling and protecting access security to your ShoutCMS site is extremely important; contact information, pricing, and sales information is maintained and is accessible from the ShoutCMS Administration Console. Take a moment to: 1) ensure your passwords are sufficiently strong, and 2) record your web addresses, user names, and passwords in a secure (off-line) place for future reference.